As we all know, fire pump is widely used in our production and life, such as water treatment, fire safety and other departments will be used. After the reform and opening up, it has been widely used in life and production because of its completely sealed, leak-free, corrosion resistance and other characteristics. Because of its superior transport and storage characteristics, it has become a new favorite of many factories. So, what is the future development trend of fire pump? Here, we make a brief analysis of this.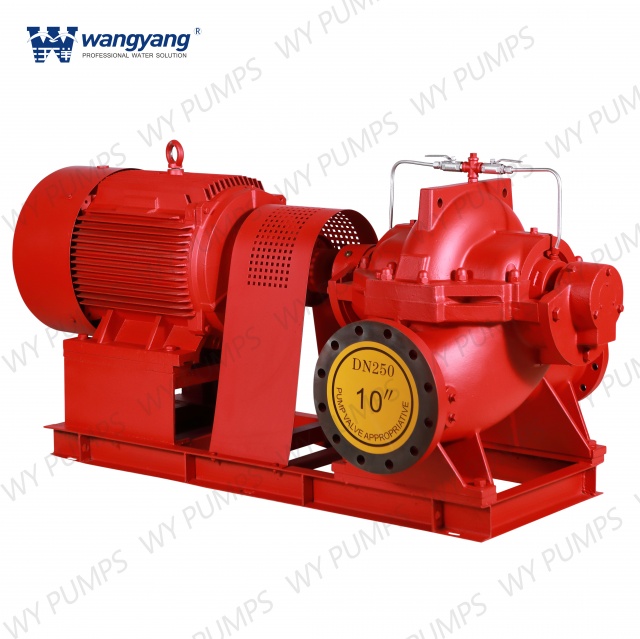 Outlines:
♦ Type of fire pump
♦ Fire pump application
♦ Development trend analysis
♦ Summary
Type of fire pump
Ⅰ. Dismantling fire pump
(1) WS pump is a new single stage double suction centrifugal shunt pump with excellent performance. They are widely used to transport liquids to water plants, air conditioning circulating water systems, heating water network systems, buildings, drainage pump systems, power stations, industrial water supply systems, ship systems, mines, etc. Type WS pump is an advanced product SH type development. S, SA, SLA, SAP pump.
(2) Advantages
1. Because of the short support on both sides, it can work steadily, with low noise and vibration and high speed.
2.Because the import and export are located on the same central line, the pipeline layout of WS pump is simple and beautiful.
3.Castings can be installed vertically or horizontally according to different working conditions, with mechanical seals or packing seals.
4.Apply visible industrial design lines.
Ⅱ. Vertical Turbine Fire Pump
XBD series fire pump group is developed by Nanjing Wangyang Pump Industry Co., Ltd. with advanced technology at home and abroad. The pump is manufactured in accordance with the latest national standards. And become one of the leading suppliers in China.
(1) Function
1. The impeller blades are manufactured by advanced hydraulic design and structure, as well as grey ground technology. The impeller blade is made of epoxy resin coating process. Reasonable material selection makes the product have good performance and long service life.
2.Rotating sand device and labyrinth structure prevent sand from entering bearing.
3.The impeller shaft and motor shaft are supported by bronze bearings, so that the pump runs stably and reliably with low noise.
4.The shape of the discharge head is beautiful and the windows are large. It is convenient to repair and replace the lid.
(2) Materials
1. Bowl: Cast iron, stainless steel
2.Shaft: Stainless Steel
3.Impeller: cast iron, bronze or stainless steel
4.Discharging head: cast iron or carbon steel
Ⅲ. Vertical Turbine Fire Pump for Diesel Engine
(1) XBC series deep well fire pump for diesel engine was developed by Nanjing Wangyang Pump Co., Ltd. and manufactured in accordance with the latest national standard GB6245-2006. We also improved the design according to the standards of the American Fire Association. Mainly used in petrochemical industry, natural gas, power plant, cotton textile, whaf, aviation, warehousing, high-rise building industry fire water supply. It can also be used in ships, tanks, fire boats and other supply occasions.
(2) Function
1. Using advanced hydraulic design and structure, using Ashland process to manufacture impeller blades, using epoxy coating process of impeller blades, reasonable material selection, so that the pump has excellent performance and long life.
2.Rotating sand device and labyrinth structure prevent sand from entering bearing.
3. Diesel engines adopt domestic or imported high-quality products with good starting performance, strong overload capacity, compact structure, convenient maintenance, simple use and high automation.
Fire pump application
In people's subjective thinking, fire pump is mainly used for water supply of fire fighting system. As an indispensable tool of fire fighting system, fire pump has the characteristics of simple structure and stable performance. Because of these advantages of high performance and low energy, the safety and efficiency of fire pump is far ahead of the pipeline tools used for the same purpose. However, the application of fire pump shows its superior strength not only in fire fighting system, but also in industrial production and urban construction. This includes the implementation and expansion of high-end technologies for industrial and urban water supply and drainage, as well as water supply and drainage for high-rise buildings. Of course, we are familiar with long-distance water supply, we may ignore all aspects are inseparable from the application of fire pumps. Even in the bathroom heating and boiler cooling water circulation, but also rely on some practical types of fire pump assistance.
Development trend analysis
Speaking of the development of fire pumps, we have to say that the technology level of pumping enterprises in our country is comparable to that of developed countries. Because the development of pump industry in China started late, it is normal that the scientific and technological forces can not keep up with other countries. But so far, our fire pump industry needs a lot of development, but production. Quality can not keep up with demand, the pump industry is lack of competitiveness of enterprises.
Summary
That's what I want to introduce today. If you want to know any information about fire pump, you can always consult our Nanjing Wangyang Pump Company. Our company is committed to the production of Vertical Turbine Fire Pump,Horizontal Split Case Fire Pump,Diesel Engine Vertical Turbine Fire Pump and other products.